Meet Your Partnership Advisors
Meet Your Advisors
Partnership Advisors provide educational advisement to CSEA-represented NYS employees. This includes educational advice, career advisement, referrals, and other resources to support you in your educational journey. The Partnership's Educational Advisement Services are here to help you get the most out of your education. Your success is our success.
Jeff Thomas - Program Advisor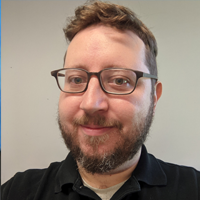 Training
Jeff has been advising CSEA-represented NYS employees at the Partnership since the spring of 2020. Prior to that, he worked at Saint Paul College where he oversaw the student tutors and enjoyed advising a diverse group of students on their studies. Jeff enjoys being able to use those experiences in higher education to assist employees in their endeavors to further their career and education. 
Favorite Quote
"Upon the subject of education... I can only say that I view it as the most important subject which we as a people may be engaged in." - Abraham Lincoln